Sophie Choudry top 10 hot photos will drop your jaw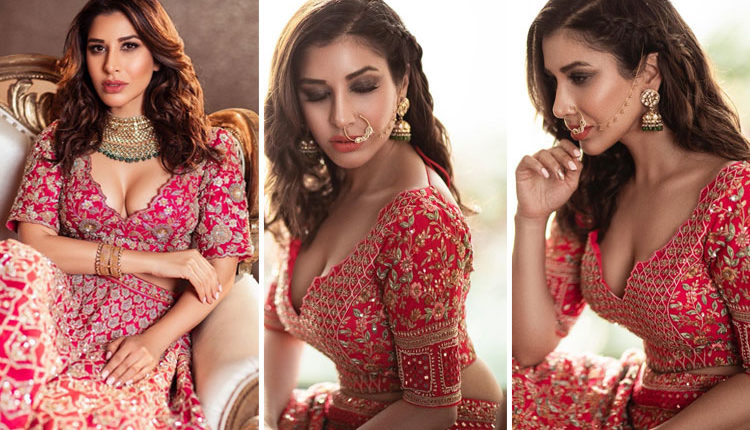 Sophie Choudry is an actress, a singer and a TV host who never fails to entertain her fans on social media. Sophie Choudry is known for her bold sexy and hot looks on social media.
Sophie often shares her hot and sexy photos and videos with her fans. Recently, Sophie Choudry has shared some pictures of her very beautiful bridal look on her Instagram.
Sophie Choudry's bridal look in the photo is very much liked by all her fans. A lot of likes and comments have come on this photo shared a few hours ago.
In the photo, Sophie is seen wearing bridal makeup and jewelery with red color lehenga.
A sensational dancer, Sophie has sent temperatures soaring wearing a bikini in the exotic island nation. The stunning Sophie seems to be enjoying her life to the fullest during her vacation.
All her fans are praising her on this photo shared by Sophie Choudry. Also, in the caption, Sophie Choudry also wrote a very cute thing saying that
Ladki aur lehenga tayyar hain..bas unka intezar hai…

Sophie Choudry
Sophie Choudry is an Indian host, singer and film actress. Sophie Choudry studied at the London School of Economics.
A video of Sophie Choudry is becoming increasingly viral on social media. In this video, she is seen melting the hearts of fans in a bikini avatar.
Sophie Choudry's fans are enjoying her caption along with her looks. Even before this, Sophie has shared her beautiful look and sexy bikini photos many times, which her fans have also liked.
"Hello paradise @naladhumaldives ?If only every Sunday could be like this!! #maldives #nofilterneeded #naladhumaldives #naladhuprivateisland #sunday #weekendfeels #islandlife #beach #ocean #paradise #worldhealthday #sophstylin #sophiechoudry Cape by @_vedikam," wrote Sophie, sharing her bikini photographs.
Speaking a bit about Sophie, her real name is Sophia and she was born and brought up in Manchester, England. She learnt Bharatnatyam from an early age and then moved to Kathak after shifting to India.
Her career in music was launched by music director Biddu who discovered her when she was just 12 years old.
She has been a backup singer to pop-stars like Alisha Chinai and Shweta Shetty. Sophie began an all-girl band called 'Sansara' in the year 2000.
She later became a VJ for MTV and hosted the show MTV Loveline. Glamorous, gorgeous and charming, Sophie is a star on social media.
Sophie may be away from the film screen, but she is a social media star. Sophie Choudry likes to share photos and videos often with her fans.
Apart from her social media account, you will also get to see sexy videos of Sophie Choudry on YouTube. Sophie Choudry is also a famous face in the modelling world.
Sophie Choudry has worked in many Bollywood films and has established a special place in the hearts of fans on the basis of her acting.
Sophie Choudry hot figure secret
While the internet is going gaga over Sophie Choudry's bikini look, we tried to know the secret behind the fit and fabulous body of the singer, performer and actor who is also known for her rigorous fitness regime and subtle style sense
The part-time actress who is known for her moves, gave up fruits and regular tea long back, in order to attain the perfect figure. According to sources, she only eats berries, soaked almonds and prefers herbal tea with no artificial flavours.
For Sophie, summer season is incomplete without homemade dal, chawal and raw mango chutney that her mom prepares in a traditional style. Also, she is a fan of mutton korma made by her mom.
According to Sophie, it is important to eat healthy and tasty food so that the body feels happy inside and it automatically reflects on the outer skin.
Sophie's Instagram account reflects her passion for fitness and we guess that's one of the secrets of her hot and fit body.
But, at the same time, her love for healthy and simple food reflects the art of balancing she is an expert in. So, if you wish to be fit and attractive like her, learn the art of balancing and see the change.
Stay tuned with Gossipganj for latest updates and don't forget to share this article with your friendsand follow us on twitter