Anita Joseph says her husband grabs her any part of her body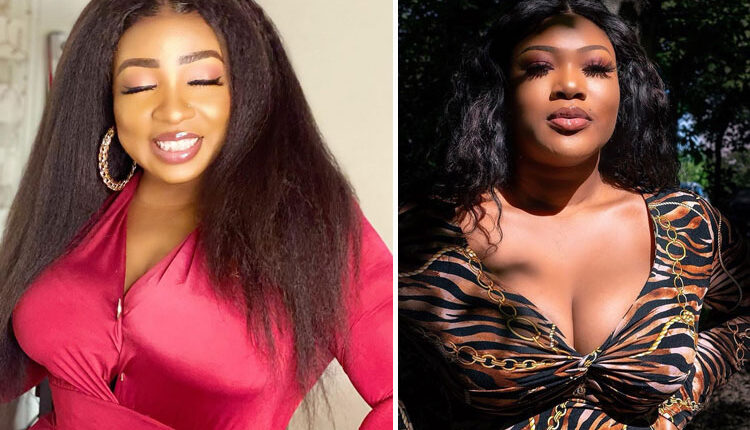 Anita Joseph has shared with fans some details of her intimacy with her husband, Michael Fisayo aka MC Fish.
Whilst addressing fans on how married women should keep up with their form and looks after having children so as to still looks very attractive to their husband, Nollywood actress Anita Joseph said that her husband grabs her any part of her body because of how inviting she always presents herself.
She wrote;
"Married women listen, this is the time the showing off starts. Open your eyes, when you are in the kitchen be sweet and hot. You need to see me in the kitchen, my husband grabs me everywhere. That you are married with kids doesn't mean you should not do shakara, this is the time to do shakara.
Why are you tying wrapper? The man will run away. Your husband needs to see you how you were when you guys met. I know some things might have changed, but keep up. Don't be like a mad woman, take care of yourself,"
On other hand Anita Joseph has taken to her social media page to call out another actress identified as Alade Brown for posing unclad with her son to celebrate his 7th birthday. It all started when Alade took to her Instagram page to share a photo of herself unclothed while her son wore just his pant. She held his hand in the photo while looking straight at him.
She bent down in a way that her privates were not seen. According to the woman, the reason she posed in such a way with her son was that his birth was a smooth one.
Anita Joseph reacts to the unclad photo of an actress with her son. Source: @anitajoseph8, @akuapem_poloo Source: Instagram Sharing the photo on her Instagram page, actress Anita Joseph said it was wrong. Expressing surprise at how she went to a photo studio, removed her clothes, and got naked, Anita said that she can't even believe that she still bathes her son at his age. The screen goddess went on to tell the woman to go for a mental check-up as she may have a problem.
Meanwhile, the actress has taken down the photo from her own page and also made a video to apologise for the boundaries crossed while noting her intentions.
Stay tuned with Gossipganj for latest updates and don't forget to share this article with your friends and follow us on Twitter.